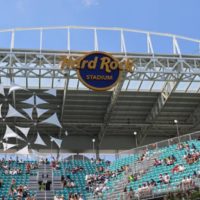 The Miami Dolphins defeated the Buffalo Bills with a clutch finish Sunday at Hard Rock Stadium in Miami Gardens, Fla. With the win, the Dolphins are now the lone undefeated team in the AFC with a 3-0 record. The Bills dropped to 2-1 and are now second to the first-place Dolphins in the AFC East division standings.
Dolphins linebacker Melvin Ingram logged two sacks, a forced fumble and a fumble recovery in the 21-19 victory, and quarterback Tua Tagovailoa threw for 186 yards and one score. Running back Chase Edmonds scored two rushing touchdown.
Dolphins coach Mike McDaniel said at a postgame news conference: "I learned a lot about their resolve. You don't know until you have it happen."
Tagovailoa sustained a head injury later in the quarter and briefly left the game. He returned to start the second half.  Of the win, he said: "We never knew when our next opportunity would be. We rallied. If you look at it, the defense came through. It tells a story of what our team is capable of."
Bills quarterback Josh Allen threw for 400 yards and two scores in the loss, saying after the game: "This is one game. We'll learn from this one tomorrow, take it on the chin and prepare for next week. That's all we can do."
Next up, the Dolphins will face the Cincinnati Bengals (1-2) at 8:15 p.m. EDT Thursday in Cincinnati; and the Bills will face-off against the Baltimore Ravens (2-1) on Oct. 2 in Baltimore.
Editorial credit: Leonard Zhukovsky / Shutterstock.com