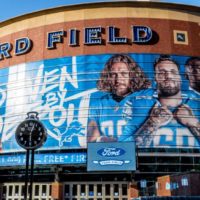 The NFL has moved Sunday's game between the Buffalo Bills and Cleveland Browns from Buffalo to Ford Field in Detroit due to a forecasted 'epic snowstorm' on the verge of hitting western New York. It is the first time in eight years that the NFL has made the decision to move a regular-season game due to inclement weather. The time of the game remains the same, and is still scheduled for 1 p.m. ET on Sunday.
The National Weather Service has already issued a snow advisory that will be in place for the Buffalo area until 1 p.m. ET on Sunday, with the current forecast calling for two to four feet of lake-effect snow, including "paralyzing snowfall for the Buffalo and Watertown areas," expected through the weekend. It added that a "crippling" lake-effect snowstorm remains possible Thursday night through Sunday night. The warning included Orchard Park, N.Y., where the Bills play, which sits just off the eastern tip of Lake Erie.
Moving the game to Detroit means the Bills lose their home-field advantage against the Browns, as Cleveland is only a 2.5-hour drive from Detroit. However, the Bills do have the slight benefit of not having to travel for their Thanksgiving game.
Editorial credit: Bruce VanLoon / Shtterstock.com