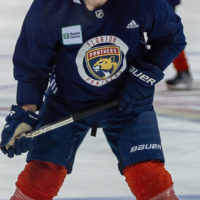 The Florida Panthers defeated the Carolina Hurricanes 1-0 in Game 3 on Monday, to take a 3-0 series lead in the Eastern Conference final.
Panthers goalie Sergei Bobrovsky made 32 saves in his first career playoff shutout, with Sam Reinhart scoring the go-ahead goal midway through the second period. Panthers captain Aleksander Barkov left Game 3 in the first period with a lower-body injury and did not return.
Florida can sweep the series when they meet Carolina at home in Game 4 on Wednesday at 8 p.m. ET.
Editorial credit: YES Market Media / Shutterstock.com