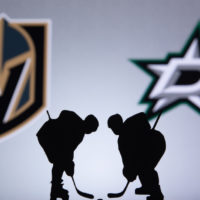 The Vegas Golden Knights took a 3-0 series lead in the Western Conference Finals, defeating the Dallas Stars 4-0 in Game 3 on Tuesday night.
Ivan Barbashev scored the second of three goals for the Golden nights with a power-play goal (after Stars captain Jamie Benn was ejected because of his hit on Mark Stone less than two minutes into the game). Vegas goalie Adin Hill stopped 34 shots in his first career postseason shutout.
Vegas will have the opportunity to advance to its second Stanley Cup Final in the franchise's six seasons, when they face-off off against Dallas in Game 4 on Thursday at 5 p.m. PT at American Airlines Center.
Editorial credit: kovop / Shutterstock.com