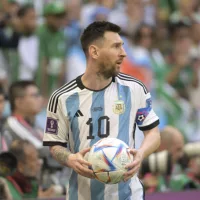 Paris Saint-Germain coach Christophe Galtier announced Thursday that Lionel Messi is leaving the club after two years. The former Barcelona forward and PSG had the option of extending his two-year deal another year, but the clause could only be activated if both parties wished to continue their relationship.
Galtier said at a news conference: "I had the privilege of coaching the best player in the history of football. This will be his last match at the Parc des Princes, and I hope that he will receive the warmest of welcomes. This year, he has been an important part of the team, always available. I don't think any of the comments or criticisms are justified. He's always been there for the team. It's been a great privilege to accompany him throughout the season."
The announcement comes after rumors surfaced that Messi was considering a move to Saudi Arabian Pro League's Al Hilal. Messi was suspended for two weeks last month following an unsanctioned weekend trip to Saudi Arabia. It was reported in May that a potential move to Al Hilal would pay Messi as much as $400 million annually (Messi's longtime rival, Cristiano Ronaldo, made a similar multimillion dollar move to the Saudi Pro League this past winter to play for club Al-Nassr, where he reportedly pockets $213 million per season).
This weekend's Paris Saint-Germain game will be Messi's last for the club. Messi has tallied 21 goals and 20 assists for PSG in all competitions this season; the Ligue 1 champions secured an 11th league title last weekend. Their 2022-23 campaign will conclude against Clermont Foot on Saturday night.
Editorial credit: A.RICARDO / Shutterstock.com