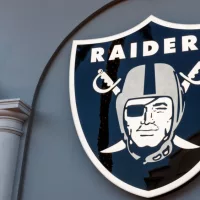 Las Vegas Raiders head coach Josh McDaniels told reporters on Monday that quarterback Jimmy Garoppolo is in concussion protocol after the Raider fell to the Pittsburgh Steelers on Sunday night, 23-18.
Garoppolo played every snap in Sunday night's game, and took four sacks and eight total QB hits. But he did not meet with reporters following the game as it was later revealed he was being evaluated for a concussion, though it remains unclear when the concussion might have occurred. Garoppolo finished 28 of 44 passing for 324 yards with two touchdowns and three interceptions.
Garoppolo must clear through concussion protocol to play in the Raiders' (1-2) Week 4 matchup against the Los Angeles Chargers (1-2). If Garoppolo is not cleared to take the field by then, it's likely longtime New England Patriots backup quarterback Brian Hoyer would start vs. Justin Herbert, with rookie Aidan O'Connell as his backup.
Editorial credit: Jonathan Weiss / Shutterstock.com