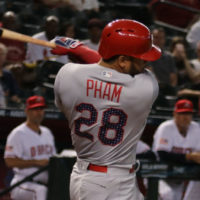 Free agent outfielder Tommy Pham, 34, has agreed to a one-year, $6 million contract with the NY Mets for the 2023 MLB season. The deal is pending a physical.
The 9-year veteran hit .229 with 15 home runs, 14 stolen bases and 49 RBIs in 155 games in 2021 for the San Diego Padres. Pham hit .238 with 11 home runs and 39 RBIs in 91 appearances last season for the Cincinnati Reds. He was traded in August to the Boston Red Sox. where he went on to hit .234 with six homers and 24 RBIs over his final 53 appearances of the season. Pham also spent time with the St. Louis Cardinals and Tampa Bay Rays.
In 876 MLB career appearances, Pham has a .259 average with 114 home runs. He earned at least 20 home runs and 20 RBIs in two separate seasons, with 23 homers and 25 steals in 2017 for the Cardinals and 21 homers and 25 steals in 2019 for the Rays.
Editorial credit: Keeton Gale / Shutterstock.com