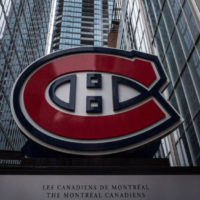 The Montreal Canadiens announced on Wednesday that winger Juraj Slafkovsky — the No. 1 overall pick in the 2022 NHL Draft — will miss three months due to a lower-body injury. The 18-year-old Slafkovsky sustained the injury in the Canadiens' 2-1 win over the New York Rangers on Sunday at Madison Square Garden in New York. This season for the Canadiens, Slafkovsky scored four goals and registered four assists in 39 games.
Canadiens general manager Kent Hughes told reporters Wednesday at a news conference: "We believe his development will happen in stages. It's not, 'Hey, we've got 10 things; go figure them out.' Because I think when you do that, [the player] is on the ice thinking and not reacting. And I think sometimes this year we've seen him think on the ice and other times we've seen him react. But we're not worried about the production side of it. We're really worried about seeing the areas that we want him to improve on."
The Canadiens also announced other injuries to their players at the Wednesday news conference: goalie Jake Allen (upper-body) is expected to miss one week; forward Joel Armia (upper-body) is likely to be out until next month's All-Star break; and Jake Evans (lower-body) is expected to miss at least two months.
Next up, the Canadiens (19-23-3) will play the Florida Panthers (21-20-5) at home on Thursday at Bell Centre in Montreal.
Editorial credit: BalkansCat / Shutterstock.com