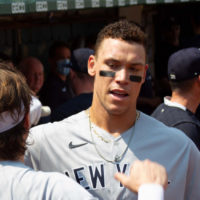 Toronto Blue Jays pitcher Jay Jackson said he was tipping his pitches against NY Yankees star Aaron Judge during the game between their two teams on Monday.  Judge has received widespread scrutiny for a sideways glance before his home run off the Toronto right-hander; television cameras showed him quickly glance toward the Yankees' first-base dugout before clobbering a 462-foot homer in the eighth inning against Jackson. Toronto manager John Schneider called the slugger's glance "kind of odd," while Blue Jays' broadcasters speculated that Judge was looking for some kind of signal.
However, Jackson offered the real explanation during an interview with The Athletic, as part of a report published Wednesday. Said Jackson: "From what I was told, I was kind of tipping the pitch. It was [less] my grip when I was coming behind my ear. It was the time it was taking me from my set position, from my glove coming from my head to my hip. On fastballs, I was kind of doing it quicker than on sliders. They were kind of picking up on it … If they knew it was coming and he clipped me, he clipped me. I'm glad he hit it as far as he did … One of the guys told me I might have been tipping my pitches. Then the video guy came back later and said, 'Hey, we might have picked something up on the difference between your slider and fastball. It might have been something those guys were keying off of. Just be conscious of it. You might want to change it up next time.'"
Judge said after the game that he was trying to identify "who was chirping from our dugout" at plate umpire Clint Vondrak. The Blue Jays, however, did not buy Judge's explanation, and Schneider felt he could have been receiving signals from Yankees first-base coach Travis Chapman.  The Yankees have not been accused of using electronic equipment to decipher the Blue Jays' signs, which is against Major League Baseball rules.
Judge remained unaffected by the controversy, howeve, hitting another monstrous, two-run blast that broke an eighth-inning tie and gave the Yankees a 6-3 victory on Tuesday. Judge's 448-foot drive to center field broke part of a white maple leaf sign — Canada's national symbol.
Editorial credit: Conor P. Fitzgerald / Shutterstock.com