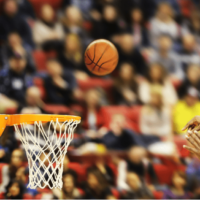 The Miami Heat rallied in the second half to beat the Boston Celtics 123-116 in Game 1 of the Eastern Conference finals on Wednesday night. Miami trailed by nine at the half before coming back with 46 points in the third to outscore Boston 66-50 in the final two quarters.
The Heat's Jimmy Butler scored 35 points, including 20 after halftime, making it his fifth game with 30 or more points this postseason and he added seven assists, six steals and five rebounds. Bam Adebayo added 20 points and eight rebounds. Kyle Lowry, Caleb Martin and Gabe Vincent and Max Strus all added 15 points apiece. Jayson Tatum led the Celtics with 30 points, with Jaylen Brown finishing with 22 points and nine rebounds, and Malcolm Brogdon adding 19 points.
Game 2 between the Heat and Celtics will take place Friday in Boston.
Editorial credit: Valentin Valkov / Shutterstock.com